Trucks For Sale
All trucks pictured here are operable with clear titles and are located at Countryside Diesel Repair, LLC on google maps located at 9600 S 4060 Rd, Talala, OK 74080. You will need to call Kevin Perry at 918-706-1925 to schedule an appt to view. CALLS ONLY.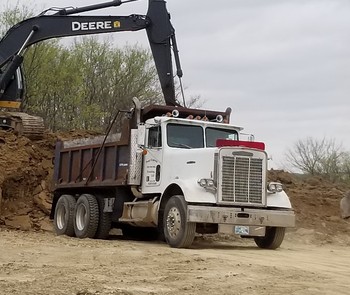 1981 Freightliner FLC. $32,500
350 big cam. Complete out of frame engine overhaul. Remanned 13 speed. New clutch. Deep rubber. All work completed in house here at Countryside Diesel Repair, LLC. Radiator completely rebuilt by Bixby Radiator. Rears have been checked for wear and drained and filled with new oil. New PTO and pump. Cylinder is good. New tarp rack and tarp. Truck runs and drives great. I have the aftermarket A/C system for it but havent had time to finish installing it. Good brakes all the way around. Truck has and will pass DOT inspection. NO trades. NO financing. NO texts. If you are a serious buyer you will call 918-706-1925. I dont have time for tire kickers. You want a newer truck this truck is not for you. This truck is all mechanical and doesn't require elogs. Interior is in good shape and needs nothing. Truck is in operational condition & was in service till a few months ago. Business name, phone #, LLC, website, & Facebook page could also be sold for an additional $25,000 if interested & is transferrable out of state.